Savitri Temple Ropeway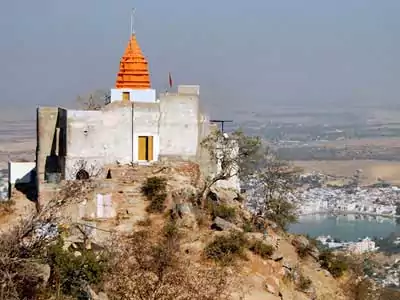 Pushkar Is a Small Holy Town Located Near The Ajmer City. The Popular City Is Surrounded By The Aravali Mountain Range and Takes Approx 30Mins To Travel Via The Mountains. A Part From All Other Tourist Monuments Savitri Temple Ropeway Pushkar Is a Must Visit.  However The Brahma Temple , Pushkar Lake and Other Excursion's are Important Place's To Visit. Pushkar Is Known As Temple Town As Well. Goddesses Savitri Is Wife Of Lord Brahma The Creator Of World. Savitri Cursed To Brahma and Went Up On Hill and Hence The Temple Of Savitri Is On a Hill Nearby In Brahma Temple Area. There Use To Be Stairs and Mountain Way To Climb The Mountain For The Pilgrims. There is a Yearly Fair In Memory Of Savitri Mata Which Held's For 2 Days.
Located On The Small Ratnagiri Mountain In Pushkar Savitri Temple Now Is More Visited and Popular Because Of The Savitri Temple Ropeway Pushkar . The Project Is Made By Damodar Infra Of Kolkata. The Project Coasted Around 18 Crore Rupees. The Ropeway Has Some Scenic Views Of Nature and Takes Approx 15 Minutes To Reach at The Top. Every Year More and More Pilgrims Visit To The Site and Enjoy Exotic Views and Pray To Savitri Mata Temple. However A Lot Of People Use The Ropeway One Way Going and Return Via The Mountain. The Top Of Mountain Has a Small Savitri Temple and Magnifique Views Of Pushkar Lake, Town and Thar Desert Range. Savitri Temple Is Visited By More and More Pilgrims Every Year Due To The Ropeway Facility. The Ropeway Gives Ease Of Getting To Temple and Enjoy The Cable Car Activity.
All Days In Week Morning From 7am Till 12 Pm, Evening Ride From 3.30 Pm Till 7Pm Savitri Temle Ropeway Costs Apprx 130 For return Ride
Savitri Temple Ropeway Timings
Frequently Asked Questions
What are the Tmings For Savitri temple Ropeway at Pushkar ?
Ans: -Savitri Temple is Open From 7am till 12 Pm , and Evening Ride From 3.30Pm till 6 or 7Pm .
How much is The Ticket for Savitri Temple  Pushkar Ropeway ?
Ans: - Savitri Temle Ropeway Costs Apprx 130 For return Ride .
Can I Go Savitri Temple By Mountain Climibing or Trekking ?
Ans: - Savitri Temple is a good option for people looking for small trekkings. It has Stairs as well as Mountain where many people climb to enjoy trekking.