Luxury Taxi Hire in Ajmer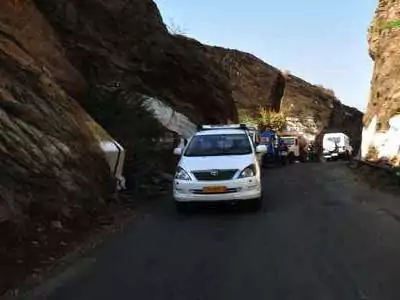 Travelling in luxury cars is a dream of many people, but often it is not feasible for everyone to buy a luxury car. That's where Taxi in Ajmer comes into the picture, we offer Luxury Car Rental in Ajmer for multiple purposes. Taxi in Ajmer has a great experience in introducing ourselves as a professional managed Luxury Car Rental Service provider in town. Many travellers want luxury car rental services like Audi, BMW, Mercedes, Jaguar, and Fortuner. One can hire branded cars for their special occasions or business meetings or any get-together. One can rent a suitable luxury cab for multiple purposes. Our fleet of cars has all qualities of an automobilist who picks you up and drops you at your doorstep.

Our premium cabs have comfortable seats to make your journey quite relaxing. Large display Audio system and CD player feature an easy-to-read, color screen which makes your journey entertaining and fun-filled. Luxury Car Hire Ajmer is the best service we can provide with our well-maintained cabs for weddings or corporate meetings.
Rent a Luxury Cab for Multiple Purposes:
Retirements & Corporate Events in Ajmer -

Be it an anniversary party or proposal or retirement party, our classic luxury vehicles take the hassle out of your special day. Retirement is a special time of life when you no longer need to work to live comfortably. When it is for a retirement party, there is nothing more amazing than booking a suitable luxury taxi service in Ajmer. Also, if there are some other special corporate events to attend in Ajmer and you want to give a classic entry to it. Then simply book a suitable luxury car in Ajmer with us and enjoy a comfortable drive to the city.

Pre-wedding photoshoot or Film shooting -
Currently the hottest photoshoot destination in Rajasthan, Kishangarh Dumping Yard is a wasteland that passes off as a paradise. The marble dumping yard is really a moonland of Rajasthan which looks like snow where many couples flock here to click amazing photographs. Kishangarh's dumping yard is approximately 32 kilometres which takes approximately 42 minutes to drive from the Taxi service in Ajmer. When it comes to film shooting anywhere in Ajmer, Pushkar, or Dumping Yard, choose the best suitable luxury car with us. For film shootings in Kishangarh Dumping Yard or any other place, hiring a luxury car rental in Ajmer will be an amazing option to travel.

Wedding in Ajmer or Pushkar
Book a luxury car for a wedding in Ajmer with us and enjoy a quality-driven journey for a hassle-free journey. Through our wedding car rental in Ajmer, you can enjoy a relaxing and comfortable trip to offer you a unique experience to create. The way we interact with our customers reflects our commitment to the best services. We always strive to provide a quality service that we do just that.

Luxury Honeymoon Tours
If you are planning to give your soulmate a special honeymoon retreat, then Ajmer and Pushkar can be a great place to go. Book a luxury car for your honeymoon Ajmer Pushkar Tour Package with us to enjoy amazing luxury perks on a trip. When we say luxury, we personify with our unmatched services, inclusion, and experiences.

Taxi in Ajmer provides a comfortable and secure journey in the comfort of luxury cars to let our clients enjoy a trip. Whether it is a luxury car on rent in Ajmer or helping your organization to plan a conference, we are at your service to make your journey memorable and lavishing.
Luxury Car Rental rates In Ajmer