Pushkar To Kishangarh Taxi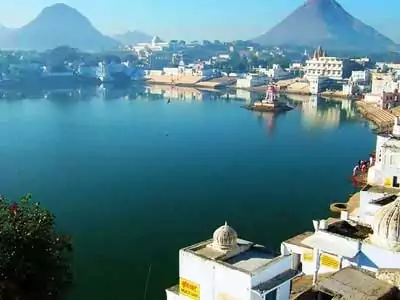 Taxi in Ajmer is one of the best cab or taxi rental service providers in town. Whether you are travelling for a business trip, casual trip, or a family holiday to Kishangarh, we have a wide fleet of cheap car rentals in all shapes and sizes. Here you can find the best cab rental options in Pushkar that suit your needs at affordable prices. Book Pushkar to Kishangarh Airport Taxi Price at the best deals or discounts with us. You can book a taxi to cover the distance in a comfortable and hassle-free way. Hire a taxi in Pushkar for all types of cars at the best deals and discounts.

About Pushkar –
The small town of Pushkar is located around 15 kilometers away from Ajmer in Rajasthan. The most preferred tourist destination in Rajasthan, Pushkar has everything to appeal to guests of all interests and preferences. From budget hotels to luxury resorts for staying or spiritual to adventure activities, Pushkar offers many interesting things to do, places to visit, and accommodation options in the city. The holy town is well-known for being the world's only Brahma Temple which attracts Hindu pilgrims from across the world. With Pushkar Taxi Service, you can travel to all the major tourist spots in and around the city.

If you are planning a holiday trip to Pushkar, then hire our Local Taxi rental rates in Pushkar for smooth and easy travelling services. Be it spending evenings sitting at the ghats or taking a stroll through narrow alleys while listening to the spiritual chants, there are many amazing things to do in Pushkar. Travellers can plan a 2- or 3-day trip to Pushkar any time of the year and spend a relaxing holiday in the city. The annual Pushkar Mela draws millions of visitors from around the world to experience the rich cultural heritage of Rajasthan. With folk dances, rides, stalls, and magic shows, Pushkar gets lit up with music booms from every house.

Hire Sedan Car for Airport Transfer
Sedan Car Rentals of Taxi in Ajmer come in a variety of vehicles including Toyota Etios and Swift Dzire. The cars undergo cleaning and service processes very frequently, so you can enjoy a safe ride across the city. Sedan cars are the most economical taxi rental option, ideal for budget travellers in the city. These cars can accommodate 3 to 4 passengers in their comfortable seats.

Rent SUVs in Pushkar
Hire Outstation Taxi Rental Rates for outstation, local sightseeing, and airport transfers to Kishangarh. Our SUV taxi rental service is good for group tours. The SVU cars include Toyota Innova and Toyota Innova Crysta which can accommodate 6 to 7 passengers. This service is useful for travellers who want to travel for airport transfer.

Book Tempo Traveller in Pushkar
Having a marriage party in Pushkar or going on a weekend getaway, Taxi in Ajmer has got you covered for comfortable group travel. Our fully equipped and well-maintained tempo traveller rentals in Pushkar are quite flexible and designed to accommodate any kind of requirements that you may have in respect of planning a group tour. The luxury 10-seater tempo traveller can be hired on rent for airport transfer. This spacious vehicle features many comfortable amenities like extra leg space, air conditioner, plush interior, neat and clean curtains, and seat covers.

Luxury Car Rental in Pushkar
Hire Luxury cars for Pushkar to Kishangarh Airport Taxi Booking Price. The service is available for weddings, corporate, or any travel purpose. Many people wish to experience a luxury cab service to travel for any special occasion or business meetings or get-togethers. By choosing our taxi rental service, you can enjoy a safe and hassle-free journey with us. Comfortable cars will make your journey quite refreshing and relaxing.

Taxi Booking in Pushkar for Kishangarh Airport is easy and convenient for us. The drivers on this route are professional and courteous, and they drive frequently on these routes. If you are planning to visit Pushkar for one or two days, you can opt for an airport taxi service. We operate pickup and drop service from Pushkar to Kishangarh 24*7 for your comfortable trip.
Pushkar to Kishangarh Airport Taxi Rates